Jouer Cosmetics founder Christina Zilber returned to a chaotic United States in early March after attending a business trip overseas. She stepped off of the plane and into a changed America brewing with the highly contagious coronavirus.
As she searched empty shelves for any trace of disinfectant, she faced a major decision: either retreat in the face of disaster or use her platform to help stop the spread of a dangerous disease. In just three short weeks, Jouer Cosmetics conceived, constructed, and launched Hand 2 Hand sanitizer.
"What would normally take us six months to do, we did in three weeks," said Christina, "We pulled off putting a product on the market with all of us working from home in our sweatpants, it's crazy."
Working around the clock, the LA-based team researched formulas, obtained bottles, created artwork for labels and brainstormed product titles from their shelter-in-place spots. The decided name, "Hand 2 Hand," reflects the act of extending a helping hand to people in desperate search of sanitizer and healthcare warriors on the frontlines.
"When lockdown happened, it was kind of at the same moment that we were hearing that there was a shortage of supplies for healthcare workers," said Christina. Jouer Cosmetics made it a company mission to create a highly potent product with an FDA-approved formula and disseminate it fast.
"We wanted to get it into hands as soon as possible, so we literally split our shipment." said Christina, "Half of it has already been donated. We took 5,000 sanitizers to Cedars-Sinai hospital."
Containing 80% alcohol, the bacteria-busting sanitizer is now cleansing the hands of those risking their lives to keep us safe. Plus, every time a customer purchases Hand 2 Hand, Jouer donates a bottle to continue assisting first responders. But wait, there's (way) more.
Jouer Cosmetics has donated thousands of additional supplies, including 5,000 N-95 face masks and 5,000 plastic ponchos to help prolong the use of PPE. After hearing about the need for lip care products amongst medical staff, Jouer donated 10,000 Lip Enhancer Conditioning Treatments as a thank you to hospital heroes.
Christina says that she wants everyone to get in on the giving and have fun while providing support. "I genuinely feel that everybody wants to support and do something," she said, "And I think there's not a lot of information about how you can. So, we just came up with a bunch of different ways to do that."
On Jouer's website, there's a page dedicated to donations. Customers can pitch in a monetary amount ranging from $10 to $100, which is then put toward more supplies for healthcare workers in LA hospitals and beyond.
---
After you donate, Jouer will add your name to the "Angel Board" (a list of donators) posted on Instagram, and you'll receive a mini lip enhancer and a collection of commemorative stickers.
The company recently launched the "Jouer Heroes" program, allowing the brand's Instagram followers to nominate essential workers from a variety of fields to receive thousands of dollars' worth of free makeup and skincare.
"We're going to be celebrating postal workers, transportation heroes, grocery store workers, and people delivering our food. These are the workers who have been underappreciated in our society for a long time," said Christina, "I just feel like this is the time to really celebrate them."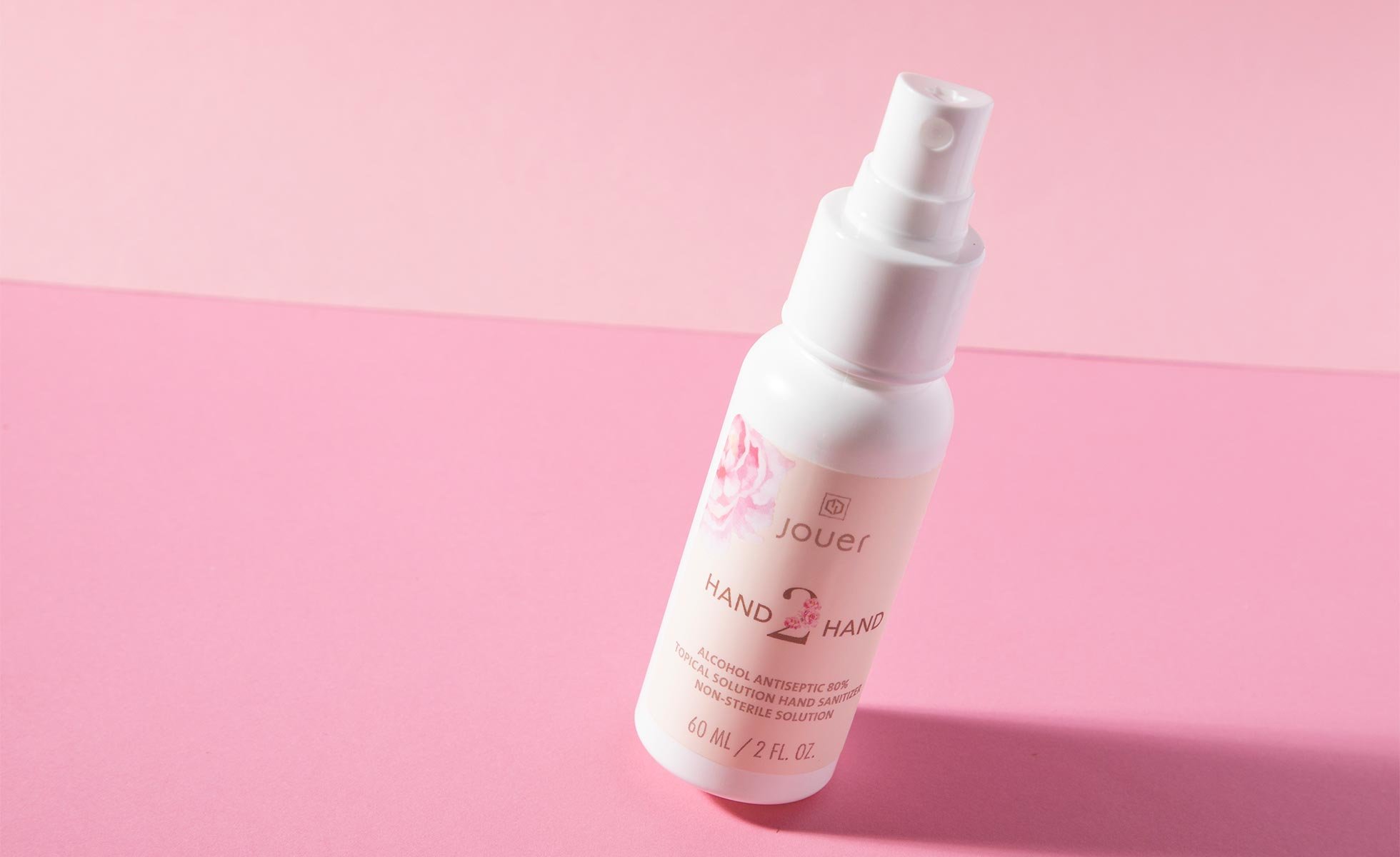 While the community-focused brand continues to direct its efforts outward, Christina is aware of the uncertainty within her company about the future, a shared feeling amongst businesses nationwide.
"I have labs that shut down," Christina said, "There's a panic that's set in with a lot of people like, 'I need to save my company, I need to save my employees.' It's a level of stress that I didn't see coming."
During these tough times, the Jouer team lifts morale with themed dress-up calls on Zoom, a meme-dedicated slack channel, and 20+ hours of volunteer work with organizations outside of the beauty world. Christina also reminds her employees that it's okay to feel frustrated.
"Every once in a while, you have to crawl into bed, curl into the fetal position and just be there," she said, "My biggest advice would be that you have to respect where you are. I think we all need to be forgiving and more loving to ourselves."